Report Day 1 EMT Session, Monday July, 25 2016
Coverage from the Nakula Sadewa Room
Center for Health Policy and Management (CHPM), Faculty of Medicine, Universitas Gadjah Mada-Jogja.
INSARAG ASIA PACIFIC REGIONAL EARTHQUAKE RESPONSE EXERCISE

Yogyakarta, 25-28 July 2016
---
Emergency Medical Team Session
Our country is considered by many as a country that is plagued with disasters. These disasters are either caused by natural disasters such as earthquake, floods, tsunami, and many other causes or from human activities such as bombing terrors, civil unrest, fire or even accidents at work due to human negligence. As part of the ERT (Emergency Response Team), the Medical Emergency Response Team (EMT) focuses on providing medical assistance to the disaster victim.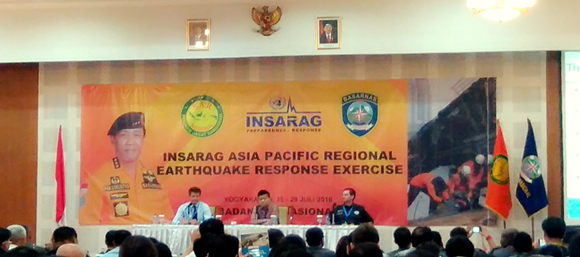 ERP (Emergency Response Plan) management system is always needed and must ready to be implemented in the event of an emergency, therefore it is advised that every corporation incorporate ERP management system as early as possible. One of the many ways to learn it is through dissemination and Emergency Response Plan exercises, followed by routine and continuous exercises.

It is hoped that through this exercise, participants will acquire knowledge in meaning disaster and conduct emergency techniques accurately. The purposes of the exercise are as follows:
To coordinate Emergency Planning efforts/ERP (Emergency Response Plan) therefore efficiency and effectiveness can achieved in managing emergency.
To have the proper understanding with the logistics of things concerning with ERP (Emergency Response Plan) as a system that is always needed and implemented in the event of an emergency therefore emergency response can be carried out quickly and with precision.
To understand the risk of emergency situation and exercise preparedness in managing emergency situation therefore anxiety and panic can be managed.
To be better prepared in reducing the risk of more loses in the event of an emergency.
To manage procedures in conducting Emergency Response thus reducing company loss.
To ensure that control measures and ERP (Emergency Response Plan) is well organized.